Reliable Towing in Dover Delaware and Delmar Delaware

4 Points Towing & Roadside Service is your #1 Towing Company in Dover DE and Delmar DE.  We provide local and long distance towing for cars & trucks, as well as exotic car towing, classic car towing, and low clearance vehicle towing.  We also perform light equipment hauling in Dover and on US-13 & DE-1 in Harrington, Milford, and Central & Southern Delaware.
We are a family owned and operated local towing company that prides ourselves on providing exceptional towing service to Kent County, Sussex County, and all surrounding areas in Delaware and Maryland.  Our towing operators are highly trained, so you can rest assured that we have the experience to take care of your vehicle.
Call now to get the 4 Points Towing & Roadside Service Team working for you!
4 Points Towing & Roadside Service is Proud to Partner with the Following Organizations
Towing and Roadside Assistance Services

Track Your Tow Truck in Real Time

Our 4 Points Advanced Truck Tracking™ Technology allows you to see the location of your tow truck operator in real-time as they are headed to your location!
After requesting towing service, you will receive a text message with a link to see the location of your tow truck.  No more worrying about where your tow truck is, and when it will get to you!
Contact our dispatch center now to get a tow truck headed your way!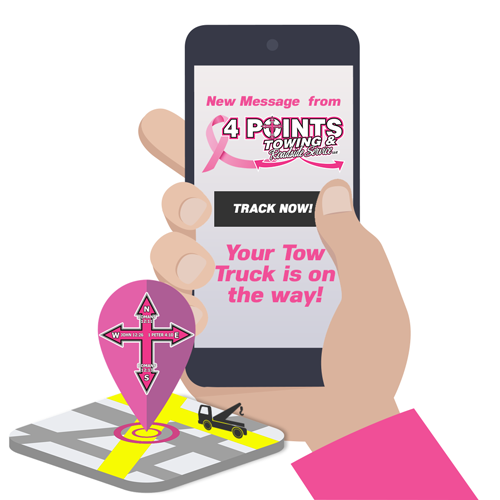 Check Out Some of Our Reviews

Robert was 10 star rating.Very quality service!If you any of their many services I highly recommend 4 points towing!
WALLACE MIDDLETON
15:39 21 Sep 23
Jacqueline Madura
03:06 19 Aug 23
I received a call back from 4 points Towing and Scott was on the line and and for me he was only 10 or 15 minutes out and he would be there probably to help with my car I cannot say enough about Scott and or four points Towing.SUPERB CUSTOMER CARE
William Durham
13:33 16 Aug 23
Scott did an amazing job he deserves a raise and he's been great.
taurus Maczuga
20:18 15 Aug 23
Fast Service and Friendly Drivers. 10 plus all day
stanley boone
19:03 15 Aug 23
Award Winning Delaware Towing Service

Trust the Award Winning Professionals at 4 Points Towing & Roadside Service!
Our team is the only towing company in Delaware to have been awarded the prestigious American Towman ACE Award for four consecutive years.  In  2018 through 2021, 4 Points Towing & Roadside Service received the ACE Award for being in the top 1% of towing providers.
We strive to deliver 100% customer satisfaction on every tow & roadside assistance call – regardless of the size or age of the vehicle.  Our goal is to get you back on the road as safely and promptly as possible.
Choose 4 Points Towing & Roadside Service as your professional and trusted towing provider today!
More About Our Towing Services

We Proudly Serve the Following Areas

Towing in Delaware
Blades, Bridgeville, Camden Wyoming, Cheswold, Clayton, Delmar, Dover, Dover AFB, Ellendale, Farmington, Felton, Frederica, Greenwood, Harrington, Hartly, Houston, Kenton, Laurel, Lincoln, Little Creek, Magnolia, Marydel, Milford, Seaford, Smyrna, Townsend, Viola, Woodside, and most of Kent and Sussex Counties
Towing in Maryland
Barclay, California, Canton, Centreville, Church Hill, Cordova, Crumpton, Denton, Fruitland, Galena, Georgetown, Goldsboro, Greensboro, Hebron, Henderson, Hillsboro, Ingleside, Kennedyville, Marydel, Massey, Millington, Pittsville, Price, Queen Anne, Ridgely, Salisbury, Sudlersville, Templeville, Westville, and most counties bordering Delaware