Reliable Towing in Dover Delaware and Delmar Delaware

4 Points Towing & Roadside Service is your #1 Towing Company in Dover DE and Delmar DE.  We provide local and long distance towing for cars & trucks, heavy duty towing, as well as exotic car towing, classic car towing, and low clearance vehicle towing.  We also perform light equipment hauling in Dover and on US-13 & DE-1 in Harrington, Milford, and Central & Southern Delaware.
We are a family owned and operated local towing company that prides ourselves on providing exceptional towing service to Kent County, Sussex County, and all surrounding areas in Delaware and Maryland.  Our towing operators are highly trained, so you can rest assured that we have the experience to take care of your vehicle.
Call now to get the 4 Points Towing & Roadside Service Team working for you!
4 Points Towing & Roadside Service is Proud to Partner with the Following Organizations
Towing and Roadside Assistance Services

Track Your Tow Truck in Real Time

Our 4 Points Advanced Truck Tracking™ Technology allows you to see the location of your tow truck operator in real-time as they are headed to your location!
After requesting towing service, you will receive a text message with a link to see the location of your tow truck.  No more worrying about where your tow truck is, and when it will get to you!
Contact our dispatch center now to get a tow truck headed your way!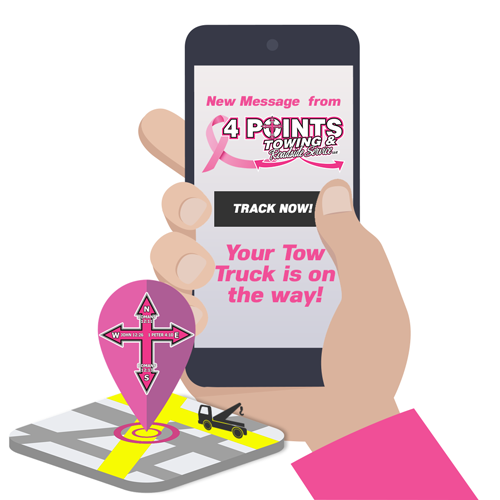 Check Out Some of Our Reviews

Robert notified me by phone when he was 5 minutes away, which was about 25 minutes ahead of the estimate roadside service gave me. He was courteous, efficient and professional. Made sure my vehicle was safely secured to the towing platform.This is my first experience with 4 Points, but I'd have no reservations about calling them again or recommending them.
xenoid zygote
23:22 25 Nov 22
Bruce was awesome he arrived extra early and got my tire changed!!! Very pleasant and well mannered💪🏾❤️
Herbert Hovington
19:28 21 Nov 22
Great people run this company. Quality of work is 5 stars.
Shepster S
21:37 12 Nov 22
Today, I had to call for roadside assistance due to my car having mechanical problems. 4 Points Towing came at the exact esitmated time. Scott, my serviceman was very courteous and helpful. He even gave me a short and concise lesson on the art of car and truck towing. I am so thankful that my insurance company dispatched 4 Points Towing. I will be sure to refer them to all of my friends and family who are around this are. Keep up the great work. You are a blessing.
Talia Mann
20:48 10 Nov 22
These guys are really good. I had a really rough time when my car broke down on a highway. I called emergency to get myself out of the highway and the next day when 4 points came, they were flexible enough to pick up my car key on the hotel so i didnt have to uber to the location. I was glad my car insurance matched me with this company. Things went uphill after that rough night. 5 stars 🌟 to these guys
Award Winning Delaware Towing Service

Trust the Award Winning Professionals at 4 Points Towing & Roadside Service!
Our team is the only towing company in Delaware to have been awarded the prestigious American Towman ACE Award for four consecutive years.  In  2018 through 2021, 4 Points Towing & Roadside Service received the ACE Award for being in the top 1% of towing providers.
We strive to deliver 100% customer satisfaction on every tow & roadside assistance call – regardless of the size or age of the vehicle.  Our goal is to get you back on the road as safely and promptly as possible.
Choose 4 Points Towing & Roadside Service as your professional and trusted towing provider today!
More About Our Towing Services

We Proudly Serve the Following Areas

Towing in Delaware
Blades, Bridgeville, Camden Wyoming, Cheswold, Clayton, Delmar, Dover, Dover AFB, Ellendale, Farmington, Felton, Frederica, Greenwood, Harrington, Hartly, Houston, Kenton, Laurel, Lincoln, Little Creek, Magnolia, Marydel, Milford, Seaford, Smyrna, Townsend, Viola, Woodside, and most of Kent and Sussex Counties
Towing in Maryland
Barclay, California, Canton, Centreville, Church Hill, Cordova, Crumpton, Denton, Fruitland, Galena, Georgetown, Goldsboro, Greensboro, Hebron, Henderson, Hillsboro, Ingleside, Kennedyville, Marydel, Massey, Millington, Pittsville, Price, Queen Anne, Ridgely, Salisbury, Sudlersville, Templeville, Westville, and most counties bordering Delaware