Reliable Towing in Dover Delaware

4 Points Towing & Roadside Service is your #1 Towing Company in Dover DE.  We provide 24-hour local and long distance towing for cars & trucks, as well as exotic car towing, classic car towing, and low clearance vehicle towing.  We also perform light equipment hauling in Dover and on US-13 & DE-1 in Harrington, Milford, and Central Delaware.
We are a family owned and operated local towing company that prides ourselves on providing exceptional towing service to Kent County Delaware and beyond.  Our towing operators are highly trained, so you can rest assured that we have the experience to take care of your vehicle.
Call now to get the 4 Points Towing & Roadside Service Team working for you!
4 Points Towing & Roadside Service is Proud to Partner with the Following Organizations
Towing and Roadside Assistance Services

Track Your Tow Truck in Real Time

Our 4 Points Advanced Truck Tracking™ Technology allows you to see the location of your tow truck operator in real-time as they are headed to your location!
After requesting towing service, you will receive a text message with a link to see the location of your tow truck.  No more worrying about where your tow truck is, and when it will get to you!
Contact our 24-hour dispatch center now to get a tow truck headed your way!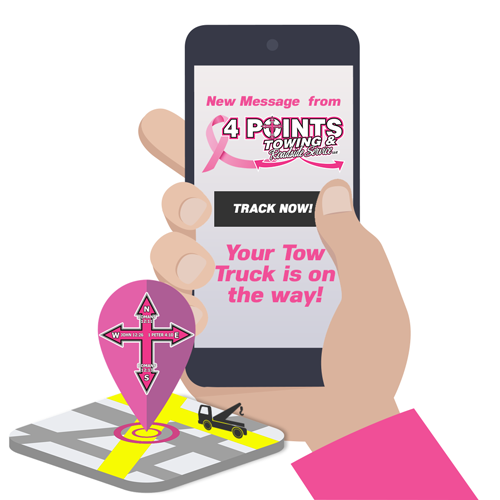 Check Out Some of Our Reviews

The truck driver was so kind to call and asked permission to come a little earlier than his ETA. I was elated as the usual calls of this kind is to report delay. Plus, he gave early relief of the anxiety associated with a car lockout while traveling. The mechanic was so pleasant and friendly as if he was a friend! Thank you 😊!
Jackie Allen-Fillmore
00:36 25 Jun 21
Gail Mader
14:16 24 Jun 21
Krystal Gosch
22:56 23 Jun 21
TJ Soriano
13:52 23 Jun 21
Veronica MannoVeronicag.
13:52 23 Jun 21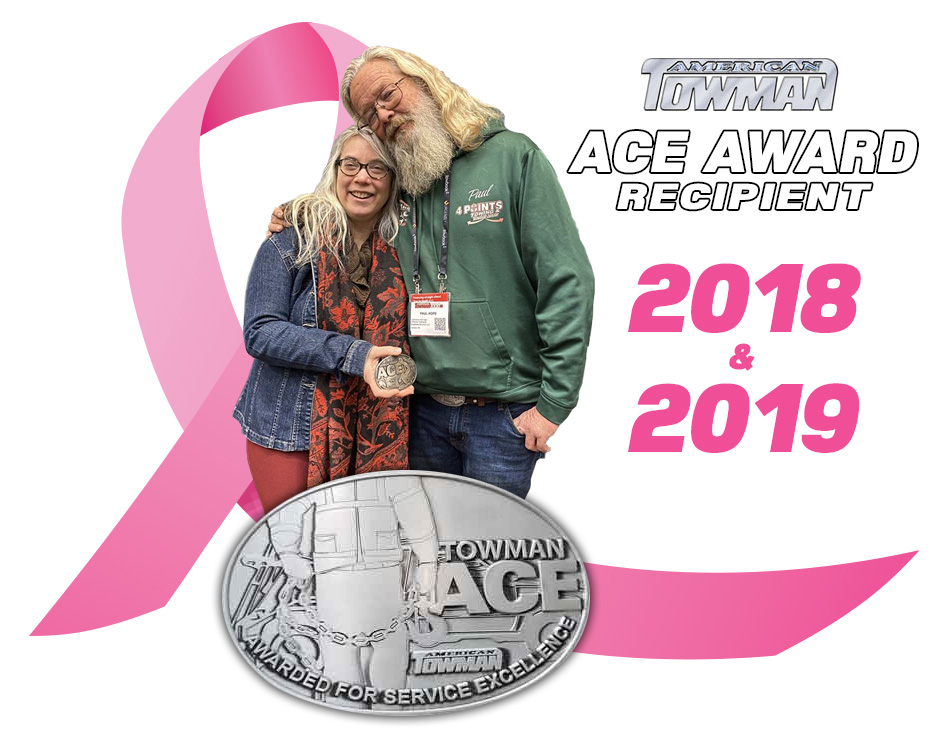 Award Winning Delaware Towing Service

Trust the Award Winning Professionals at 4 Points Towing & Roadside Service!
Our team is the only towing company in Delaware to have been awarded the prestigious American Towman ACE Award for two consecutive years.  In both 2018 & 2019, 4 Points Towing & Roadside Service received the ACE Award for being in the top 1% of towing providers.
We strive to deliver 100% customer satisfaction on every tow & roadside assistance call – regardless of the size or age of the vehicle.  Our goal is to get you back on the road as safely and promptly as possible.
Choose 4 Points Towing & Roadside Service as your professional and trusted towing provider today!
More About Our Towing Services

We Proudly Serve the Following Areas

Towing in Delaware
Bridgeville, Camden Wyoming, Cheswold, Clayton, Dover, Dover AFB, Ellendale, Farmington, Felton, Frederica, Greenwood, Harrington, Hartly, Houston, Kenton, Lincoln, Little Creek, Magnolia, Marydel, Milford, Smyrna, Townsend, Viola, Woodside
Towing in Maryland
Barclay, Centreville, Church Hill, Cordova, Crumpton, Denton, Galena, Georgetown, Goldsboro, Greensboro, Henderson, Hillsboro, Ingleside, Kennedyville, Marydel, Massey, Millington, Price, Queen Anne, Ridgely, Sudlersville, Templeville