We Pay Cash for Junk Cars in Dover DE and Surrounding Areas
4 Points Towing & Roadside Service will pay you CASH for your junk car!  That's right, we will pay you to haul away your old clunker or junk car, regardless of condition!  We also pay cash for junk cars WITH OR WITHOUT A TITLE!
Do you have a junk car that doesn't run, needs repairs?  Our team will come to you and tow away your junk car and PAY YOU CASH!
Call us today and let our team pay you cash for your junk car, clearing up space on your property, putting some money in your pocket, and getting rid of that headache that's been parked there for months or years!
Need a Tow?  Call Us Now!
Track Your Tow Truck in Real Time

Our 4 Points Advanced Truck Tracking™ Technology allows you to see the location of your tow truck operator in real-time as they are headed to your location!
After requesting towing service, you will receive a text message with a link to see the location of your tow truck.  No more worrying about where your tow truck is, and when it will get to you!
Contact our dispatch center now to get a tow truck headed your way!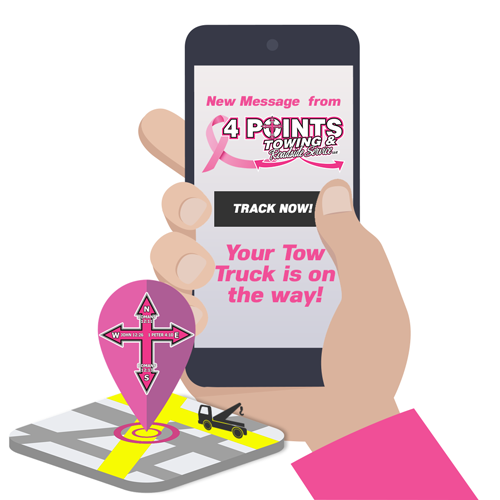 We Proudly Serve the Following Areas

Towing in Delaware
Blades, Bridgeville, Camden Wyoming, Cheswold, Clayton, Delmar, Dover, Dover AFB, Ellendale, Farmington, Felton, Frederica, Greenwood, Harrington, Hartly, Houston, Kenton, Laurel, Lincoln, Little Creek, Magnolia, Marydel, Milford, Seaford, Smyrna, Townsend, Viola, Woodside, and most of Kent and Sussex Counties
Towing in Maryland
Barclay, California, Canton, Centreville, Church Hill, Cordova, Crumpton, Denton, Fruitland, Galena, Georgetown, Goldsboro, Greensboro, Hebron, Henderson, Hillsboro, Ingleside, Kennedyville, Marydel, Massey, Millington, Pittsville, Price, Queen Anne, Ridgely, Salisbury, Sudlersville, Templeville, Westville, and most counties bordering Delaware