Trust the best Local Towing in Dover, DE…4 Points Towing & Roadside Service!  Our team provides 24 hour towing and emergency roadside assistance in the Dover area, including US-13 (S Dupont Hwy) & DE-1 in Milford & Harrington.
4 Points Towing & Roadside Service strives to provide superior towing services in Kent County at the most affordable prices possible.  Call us today at 302-757-5197 to get the 4 Points Towing & Roadside Service Team working hard for you!
Our local towing services include:
24 Hour Roadside Assistance
Motorcycle Towing
Need Motorcycle Towing?  4 Points Towing & Roadside Service offers motorcycle towing throughout Dover, Harrington, Milford and Kent County. Our team knows how important your motorcycle is to you, and will ensure your bike is taken care of throughout the towing process.  Through experience, training, and proper equipment like motorcycle dollies and flatbed trucks, we'll ensure your bike has a safe and smooth ride.
It doesn't matter if you ride a Harley-Davidson or a Suzuki – we're able to provide trusted and experienced motorcycle towing for you 24 hours a day. Give us a call anytime for local towing in Dover DE and surrounding areas!
Military Towing at Dover Air Force Base
4 Points Towing & Roadside Service proudly provides Dover Air Force Base Towing, Dover AFB Base Housing Towing, and towing to all locations within and around Dover AFB. Our team recognizes and appreciates the sacrifice of our military personnel and their families, and provides 24 hour towing, flatbed towing, and emergency towing to Dover AFB and beyond. Call us for expert and trusted military towing.
Our military towing service area includes:
Dover Air Force Base (AFB)

Eagle Heights Family Housing at Dover
Air Mobility Command Museum
Special Event Towing
If you're in Dover or the surrounding area for an event and need towing or roadside assistance, 4 Points Towing & Roadside Service is proud to be there when you need us!
Whether you're in town for the Firefly Music Festival or NASCAR at Dover International Speedway, we can get to your location promptly to provide assistance! Our family-owned company is a towing provider for:
Firefly Music Festival

Dover International Speedway

Bombay Hook Wildlife Refuge
Dover Downs Hotel & Casino

Delaware State Fair

and other special events!
4 Points Towing & Roadside Service provides light equipment hauling and transport services for construction equipment in and around Dover, Delaware. Our experienced team provides reliable transport of equipment, to and from job sites or repair facilities.
Don't incur the unnecessary expense of owning and maintaining your own fleet to transport your equipment.  Partner with 4 Points Towing & Roadside Service and let us be your equipment hauling service!
We provide these equipment hauling and transport services:
Forklift Hauling

Scissor Lift Hauling

Back Hoe/Tractors Transport
Bobcat Transport

Boat Hauling
Need a Tow?  Call Us Now!
Track Your Tow Truck in Real Time

Our 4 Points Advanced Truck Tracking™ Technology allows you to see the location of your tow truck operator in real-time as they are headed to your location!
After requesting towing service, you will receive a text message with a link to see the location of your tow truck.  No more worrying about where your tow truck is, and when it will get to you!
Contact our 24-hour dispatch center now to get a tow truck headed your way!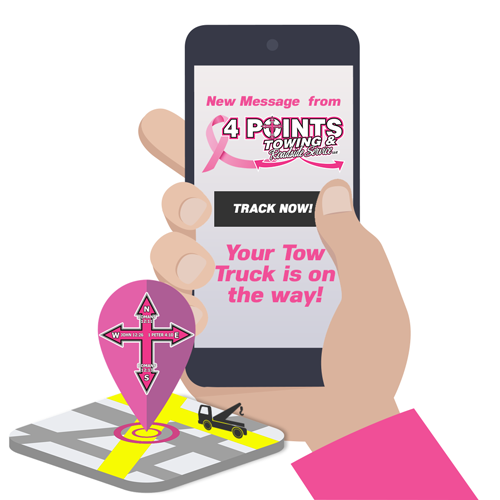 We Proudly Serve the Following Areas

Towing in Delaware
Bridgeville, Camden Wyoming, Cheswold, Clayton, Dover, Dover AFB, Ellendale, Farmington, Felton, Frederica, Greenwood, Harrington, Hartly, Houston, Kenton, Lincoln, Little Creek, Magnolia, Marydel, Milford, Smyrna, Townsend, Viola, Woodside
Towing in Maryland
Barclay, Centreville, Church Hill, Cordova, Crumpton, Denton, Galena, Georgetown, Goldsboro, Greensboro, Henderson, Hillsboro, Ingleside, Kennedyville, Marydel, Massey, Millington, Price, Queen Anne, Ridgely, Sudlersville, Templeville