Roadside Assistance in Dover DE and Delmar DE
If you're looking for Roadside Assistance in Dover DE & Delmar DE, 4 Points Towing & Roadside Service has you covered!  Our team provides emergency roadside assistance and off-road recovery throughout Dover and on US-13 (S Dupont Hwy) and DE-1 through Harrington, Milford, and Kent & Sussex Counties.
Whether you need a jump start or a flat tire change, our experienced tow truck operators can get the job done safely and quickly!
Our emergency roadside assistance and recovery services include:
24 Hour Roadside Assistance
Special Event Roadside Assistance
If you're in Dover or the surrounding area for an event and need roadside assistance, 4 Points Towing & Roadside Service is proud to be there when you need us!
Whether you're in town for the Firefly Music Festival or NASCAR at Dover International Speedway, we can get to your location promptly to provide assistance! Our family-owned company is a roadside assistance provider for:
Firefly Music Festival

Dover International Speedway

Bombay Hook Wildlife Refuge
Dover Downs Hotel & Casino

Delaware State Fair

and other special events!
Off Road Recovery
If you find yourself in an unfortunate situation where your vehicle is off the road, 4 Points Towing & Roadside Service can help!
We provide off road recovery and water recovery to Dover, Delmar and the surrounding areas.  Our team understands that poor weather conditions or accidents can result in your car getting stuck somewhere it shouldn't be.  Let us provide the experienced recovery and winching services you need, ensuring that any additional damage to your vehicle is avoided at all costs.
Need a Tow?  Call Us Now!
Track Your Tow Truck in Real Time

Our 4 Points Advanced Truck Tracking™ Technology allows you to see the location of your tow truck operator in real-time as they are headed to your location!
After requesting towing service, you will receive a text message with a link to see the location of your tow truck.  No more worrying about where your tow truck is, and when it will get to you!
Contact our dispatch center now to get a tow truck headed your way!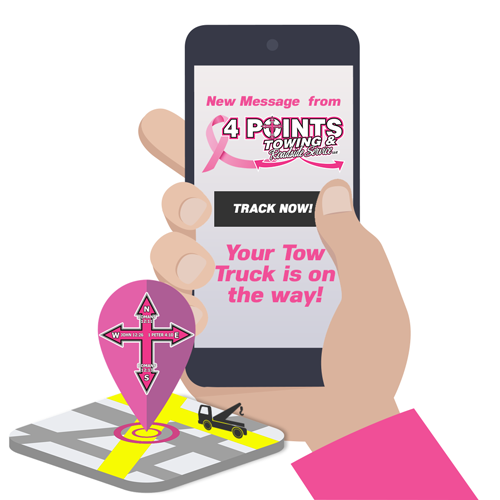 We Proudly Serve the Following Areas

Towing in Delaware
Blades, Bridgeville, Camden Wyoming, Cheswold, Clayton, Delmar, Dover, Dover AFB, Ellendale, Farmington, Felton, Frederica, Greenwood, Harrington, Hartly, Houston, Kenton, Laurel, Lincoln, Little Creek, Magnolia, Marydel, Milford, Seaford, Smyrna, Townsend, Viola, Woodside, and most of Kent and Sussex Counties
Towing in Maryland
Barclay, California, Canton, Centreville, Church Hill, Cordova, Crumpton, Denton, Fruitland, Galena, Georgetown, Goldsboro, Greensboro, Hebron, Henderson, Hillsboro, Ingleside, Kennedyville, Marydel, Massey, Millington, Pittsville, Price, Queen Anne, Ridgely, Salisbury, Sudlersville, Templeville, Westville, and most counties bordering Delaware